We hope you will support one — or both! — of our projects that are part of the Amazing Raise this year. Donate to the Soldiers and Sailors monument move or Mt. Wood Cemetery restoration project on May 1.
Soldiers and Sailors Monument Move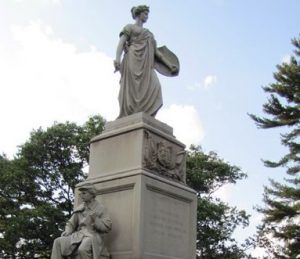 We're raising funds to bring the Soldiers and Sailors monument back to downtown Wheeling. The monument's relocation near Independence Hall would enhance the iconic building and complement its history.
Since we partnered with the Wheeling Civil War Monument Committee two years ago:
The monument's future home has been assessed and prepped.
The vacant building next door to the lot, Kirk's Art Supply store, has been slated for demolition. The building is rapidly deteriorating beyond repair, and must be removed before the monument can safely be relocated.
More than $100,000 has been raised for the monument's move.
Now, less than $20,000 separates the Soldiers and Sailors Monument from its new home. We are on the brink of completing this project, and every dollar helps.
Click here to donate to the Soldiers and Sailors project.
Mt. Wood Cemetery Restoration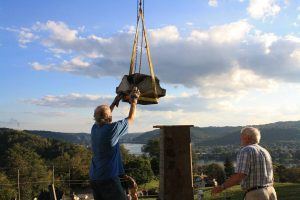 Mt. Wood Cemetery is Wheeling, West Virginia's, oldest extant cemetery. Incorporated in 1848, it is resting place for many of the area's prominent and hardworking citizens.
Mt. Wood Cemetery has been a victim to gravity and vandalism in years past. So far, we've reset dozens of large obelisks,  leveled and reset hundreds of smaller monuments and gravestones, and cleaned hundreds more.
But we still need your help. Our project is wholly funded by donations from the community. There are still ten mausoleums and hundreds of gravestones that need repaired. This work can only continue through the generosity of donors like you!
Click here to donate to the Mt. Wood Restoration project.