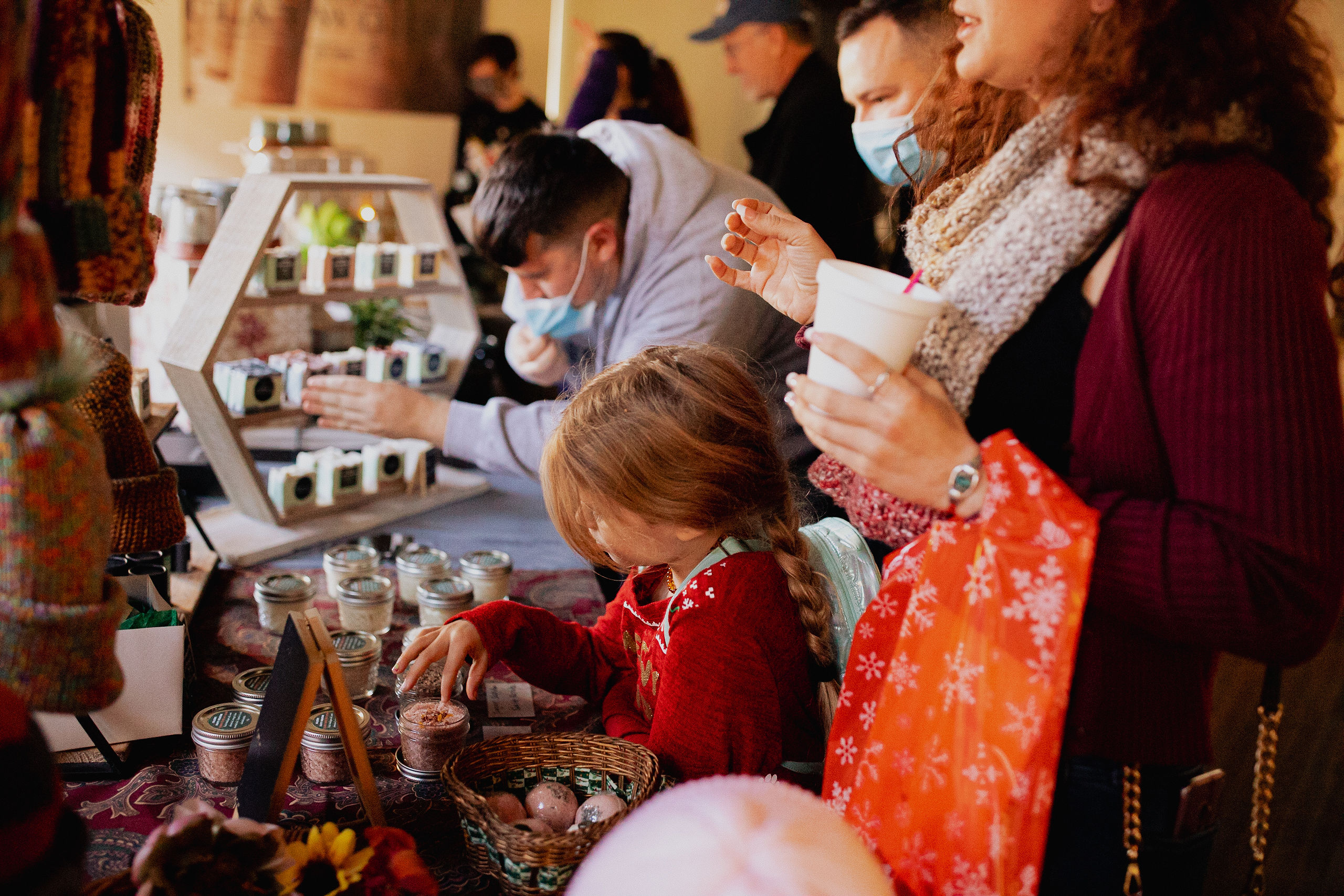 Saturday, Dec. 2, 2023
11 a.m. – 5 p.m.
Wheeling Artisan Center, 1400 Main Street, Wheeling, WV
Save the date for Wheeling Heritage's Handmade Holiday!
This one-day event will feature unique and creative handmade goods just in time for the gift-giving season. This marketplace of locally produced craft goods invites you to buy local, shop small and discover one-of-a-kind gifts for the holiday season.
Handmade Holiday is inspired by the independent craft fair movement throughout the country. The event strives to establish a marketplace of unique and creative handmade goods that supports local artists while increasing awareness about handmade, locally-produced craft goods and processes.
2023 Handmade Holiday Vendors
16th Street Clay Co. (jewelry)
A Frayed Knot (macrame)
Acute Peach Art (original art and jewelry)
Apartment Two Art (candles)
Art by Janet Lynn (paintings, jewelry)
B. Woven (handwoven goods)
Be Kind Ceramics (ceramics)
Bejeweled Trees by Barbara Bland (holiday decor)
Buffalo Bed Leather (leather accessories)
Colleen's Crafty Creations (natural soap and body products)
CrapBagBananaHammock (upcycled jewelry, accessories, and more)
Double J Farm (goat milk soap and body products)
Friendly City Freeze Dried (candy)
Fuzzy Whale Paper Co. (paper goods)
Georgia Tambasis (ceramics)
Hawke Design Shop (fiber art)
Jimagination (woodcraft)
Lambros Pottery (ceramics)
Logan Schmitt Illustration (illustration)
Lone Stone Designs (jewelry)
Lydia Grimm Art (hand-embossed jewelry)
Lynn Allan Designs (assemblages)
Mary Stitches (embroidery)
Morning Light Studio (ceramics)
Mycro Forest (home decor)
Opossum Pouch Soft Goods (outdoor goods and accessories)
Papa Faith (prints and hand-carved relief prints)
Primal Pickles (food)
Rachel Dennison (canvas and woodcut paintings)
Ready Aim Fire Ceramics Studio (ceramics)
Rust Belt Stained Glass Works (stained glass art)
Savannah Schroll Guz Studios (jewelry and mixed-media art)
Shea Rose Soapery (soap and body products)
Shortcake Crafts (crochet gifts and accessories)
Stone Cottage Apothecary (candles and home products)
Spore Print Press (screeprinting)
Tacet Coffee Cart (mobile cafe)
Tea Towels by Kerryn Carney (embroidery)
The Blended Homestead (food and wood serving boards)
The Boord Potter (ceramics)
Wanderland Creations (jewelry)
Wild + Wanderful (hand-sewn goods and accessories)
Wild Fringe Leatherworks (jewelry)
Wild Lotus Studio (jewelry)
Windswept Chimes (recycled metal art)
Witty Voyager (jewelry & trinkets)
Yardscape LLC (ceramic and metal lawn ornaments)

Vendor Information and Application
Vendor Applications are now closed.
Handmade Holiday is a one-day makers' market hosted by Wheeling Heritage. Through this event, we offer the community a fun and accessible gathering that showcases a myriad of high-quality, handcrafted goods while fostering a spirit of support for small businesses. Our goal is to promote and celebrate the creativity of local artisans and provide a platform to showcase their products to a broad audience.
Interested in joining us at Handmade Holiday? You might be a good fit if….
Your products are original and handmade. Products that are created from reproductions of your original artwork are permitted (stickers, prints, mugs, etc.).
You do not sell mass-produced, trademarked or licensed merchandise.
Your products are original and

not

made with purchased, downloaded, or copied images and designs.
You are an artisan located in Wheeling, WV or the surrounding region.
Important Dates and Details
APPLICATION DEADLINE: Wednesday, Sept. 6
Late applications will not be accepted. No exceptions.
APPLICATION NOTIFICATION: Friday, Sept. 15
All applicants will be notified of their status.
FEES:
• Cost to apply: $5 (non-refundable)
• Cost to participate once accepted: $55
EVENT DATE: Saturday, Dec. 2, 2023
LOCATION: Wheeling Artisan Center (third floor), 1400 Main Street, Wheeling
TIME: 11 a.m. – 5 p.m.
If you have questions, please contact Alex Panas, Program Manager at apanas@wheelingheritage.org