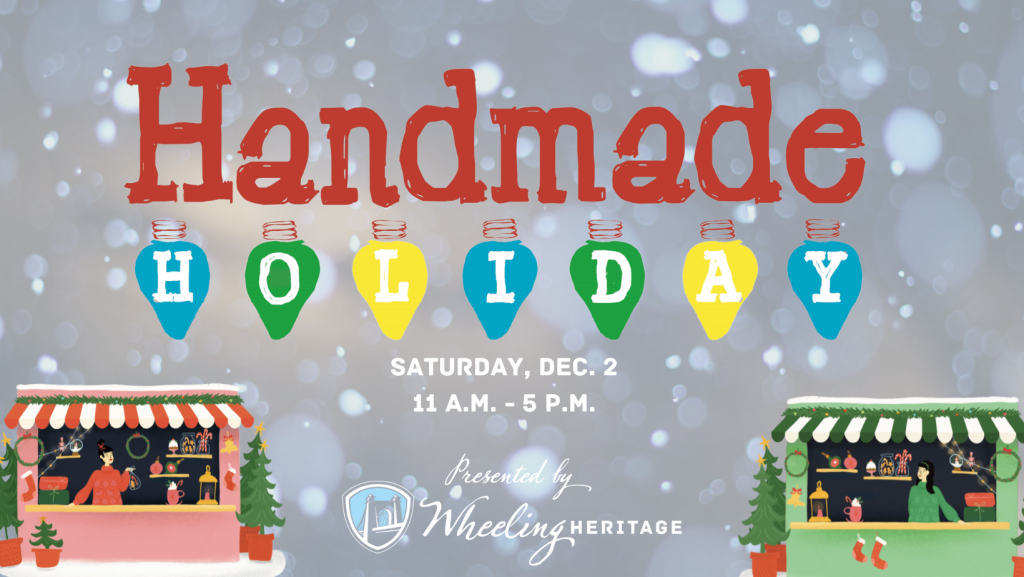 Date:
December 2, 2023

Time:
11:00 am - 5:00 pm
Add to Google Calendar
Save the date for Wheeling Heritage's Handmade Holiday!
This one-day event will feature unique and creative handmade goods just in time for the gift-giving season. This marketplace of locally produced craft goods invites you to buy local, shop small and discover one-of-a-kind gifts for the holiday season.
Handmade Holiday is inspired by the independent craft fair movement throughout the country. The event strives to establish a marketplace of unique and creative handmade goods that supports local artists while increasing awareness about handmade, locally-produced craft goods and processes.
Vendor Information and Application
Handmade Holiday is a one-day makers' market hosted by Wheeling Heritage. Through this event, we offer the community a fun and accessible gathering that showcases a myriad of high-quality, handcrafted goods while fostering a spirit of support for small businesses. Our goal is to promote and celebrate the creativity of local artisans and provide a platform to showcase their products to a broad audience.
Interested in joining us at Handmade Holiday? You might be a good fit if….
Your products are original and handmade. Products that are created from reproductions of your original artwork are permitted (stickers, prints, mugs, etc.).
You do not sell mass-produced, trademarked or licensed merchandise.
Your products are original and not made with purchased, downloaded, or copied images and designs.
You are an artisan located in Wheeling, WV or the surrounding region.
Vendor Selection
Handmade Holiday is a juried market. Each application is reviewed by a committee that votes on each application. For the 2023 Handmade Holiday market, our committee will use a scoring system to help evaluate applications based on factors such as craftsmanship, creativity, and presentation.
Due to limited space and an increase in vendor applications, participation in previous Handmade Holiday markets does not guarantee your acceptance into this market.
To make your application stand out, we recommend that you take your time to thoroughly answer each question and provide high-quality, high-resolution photos that show off the products you plan to sell at Handmade Holiday.
Apply to be a vendor by Sept. 6 here: https://wheelingheritage.org/handmade-holiday/
Location:
Wheeling Artisan Center
1400 Main Street
Wheeling
Google Maps
https://wheelingheritage.org/handmade-holiday/