Discover Wheeling's Public Art Collection
Exploring Wheeling's public art scene just got easier with our digital public art map. Art is one of the vital elements for showcasing Wheeling's identity and history, and we're proud to have so many public pieces of art on display throughout our community.
The Wheeling Public Art Trail features more than 65 works of art created by talented artists from near and far. This map is just a starting point to encourage you to put on your walking shoes, hop on your bike, and explore the hidden spaces of Wheeling. Download our Public Art Walking Tour to start your adventure in Downtown Wheeling.
More existing murals are currently being inventoried and will continue to be added to this map. If you know of artwork that should be included, fill at the form below or contact us at info@wheelingheritage.org to let us know!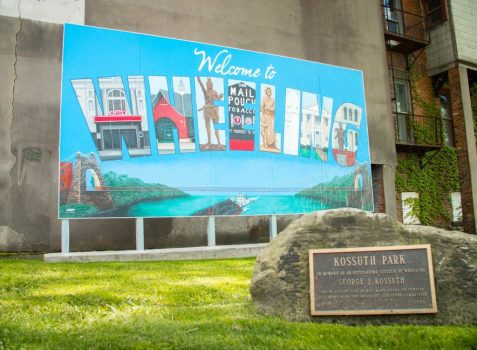 Wildlife Mural
These paintings illustrate wildlife that can be found walking along the Ohio River on the Wheeling Heritage Trail. This mural project was organized by Wheeling Arts and Cultural Commission in 2021. The mural was created by artists Adam Brouillette, Isabel Bongue and Oriana Hirschberg.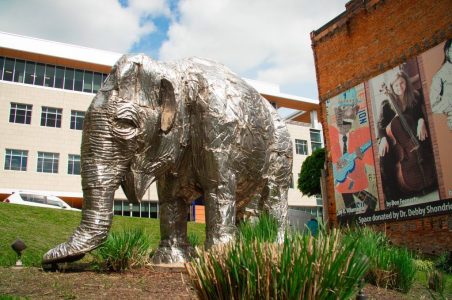 Bobo the Elephant
Bobo is a life-sized metal elephant sculpture is located on the corner of 11th and Main Street in Wheeling Heritage Port Park. While you're there, look for metal sculptures of a heron, turtle, and mouse – can you find them all? Created by artist Jeff Forster.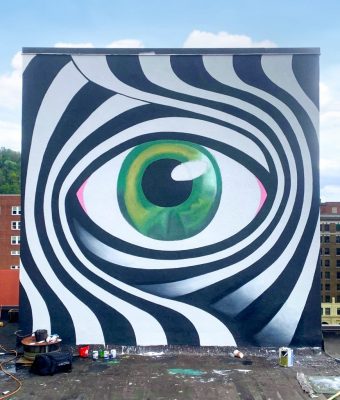 The McLure Eyeball
Tucked away on the rooftop of the historic McLure Hotel, this mural has its eye on the city. This curious green eye can be best viewed from the Fort Henry Bridge, the South end of Wheeling Island, and from Main Street near the Capitol Theatre. Created by artist Vondel Bell.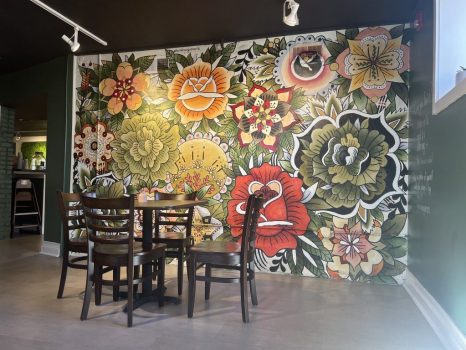 Flatiron Building Mural
This mural can be found on the first floor of the historic Flatiron Building at 1509 Main Street. The Flatiron Building is now home to Table 304, a local shop offering coffee and grazing boards. Look closely to find a tiny coffee mug and the building's iconic peacock window that have been incorporated into this mural's design. This mural was created by artist Hannah Wagner.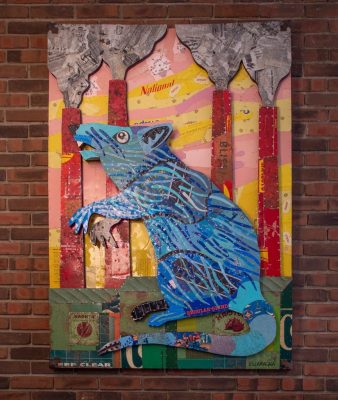 "Shrine for a Mill Rat"
This mixed media piece can be found hanging in a stairwell inside the Ohio County Public Library. Created by artist Robert Villamanga, this piece represents the artist's transformation from a "mill rat" – a derogatory term used to label steelworkers – to the artist he is today.
Contact Us
Is our map missing something? Let us know if you've seen a piece of public art that should be added to the map by filling out the form below or emailing us at info@wheelingheritage.org.