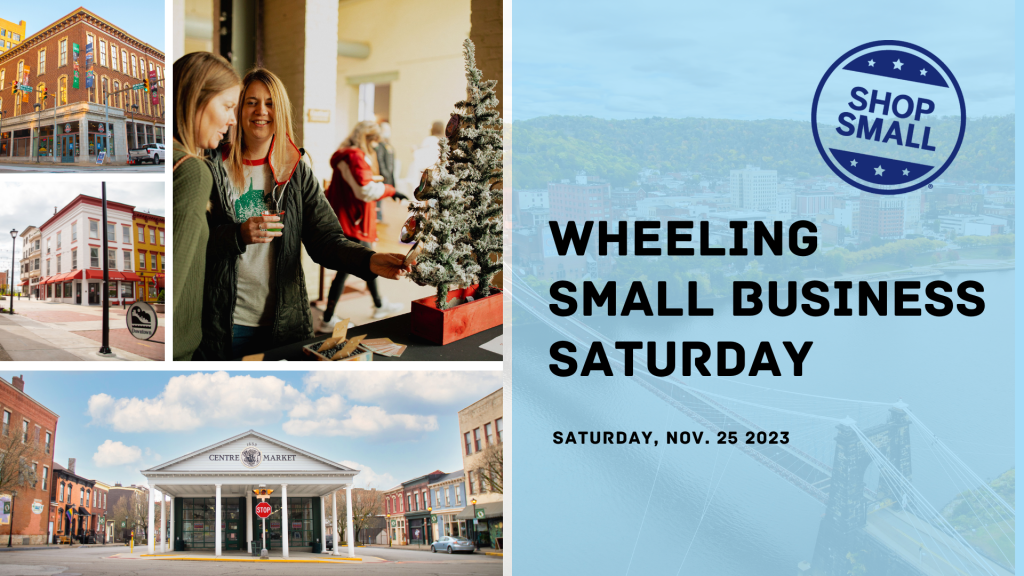 Date:
November 25, 2023

Time:
All Day
Add to Google Calendar
Celebrate Wheeling's vibrant small businesses on Saturday, November 25!
Small Business Saturday is a nationwide initiative that encourages consumers to support local, independently-owned businesses by shopping at them on the Saturday following Thanksgiving.
Why Shop Small? For every dollar spent at a small business, approximately 67 cents stays in the local community. When you support small businesses, you're not only finding unique and handcrafted products, but you're also directly contributing to the growth and prosperity of Wheeling.
Check out what you can experience this year:
THE WHEELING ARTISAN CENTER SHOP
Visit the Wheeling Artisan Center Shop for a chance to win a $100 gift card (no purchase necessary!). From noon - 1 p.m., the team from Primal Pickles will tantalize taste buds with samples of their locally-made pickled products, available for purchase in the Artisan Center Shop.
CENTRE MARKET
Centre Market is the place to shop on Small Business Saturday. Don't miss the balloon drop at 10 a.m. at the top of the Upper Market House. Each balloon will contain an exclusive gift or discount to businesses in and around Centre Market. At 11 a.m., Kevin Powell of WKWK will be broadcasting live from Centre Market.
THE PLAZA ON MARKET
Head to the Plaza on Market to pick up a treat from Lucky Candies 2 and Mmm Popcorn. Stick around from 3 - 8 p.m. and go skating on a synthetic ice rink, sponsored by the City of Wheeling.
PARK ONCE; SHOP ALL DAY!
To help shoppers easily navigate through the Downtown construction, the City of Wheeling will sponsor a special one-day loop on the OVRTA Queen of the Valley trolley. This service, provided free of charge, ensures easy access to Market Plaza, the Wheeling Artisan Center, and Centre Market.
Keep an eye out for more information about how you can be a part of Small Business Saturday in Wheeling!
Google Maps