Available for Downtown Development
Wheeling, West Virginia, is a city on the move. Be a part of the best of both worlds: A historic small town with all of the amenities and entertainment you would expect from a big city.
The Blue Church is a contributing structure in the Monroe Street East Historic District, which allows future developers to take advantage of State Historic Preservation grant programs and State and Federal Historic Tax credits.
In addition to these financial incentives, Wheeling Heritage provides free historic preservation technical assistance to anyone in the heritage area redeveloping a historic building.
Wheeling Heritage is seeking a qualified developer that can rehabilitate this building and put it back into community use. Send an email to joel@steadfastcity.com or fill out the form below for more information.
Interested in developing this historic building?
History of the Blue Church
Consecrated in 1837 as St Matthew's Episcopal, this Greek Revival church is one of the few pre-Civil war buildings remaining in Wheeling, and one of the oldest church buildings in the community. When St. Matthew's congregation moved to its fourth home, the church was purchased by the First Baptist Church, whose members called it home for nearly 100 years. The building most recently was used by the Church of God and Saints of Christ.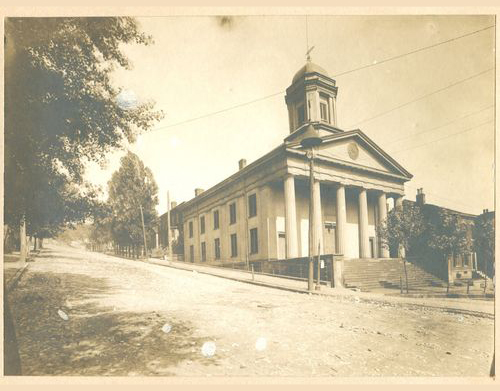 When the Wheeling Young Preservationists and Wheeling Heritage heard that the church was for sale, they partnered to buy the building. Through generous donations from two local foundations and countless individuals from all over the country, the partners were able to raise the funds necessary to acquire the building. Since its transfer of ownership to Wheeling Heritage, the Blue Church has seen significant renovations. While much work is left to be done, the space is poised to be developed and used by the community once again.