Communications and Development Manager
Wheeling Heritage is seeking a Communications and Development Manager to join its team. The Communications and Development Manager's primary goal is to ensure Wheeling Heritage achieves its mission by building strong and sustainable funding relationships and developing greater awareness of its programs and services.
This position will be accountable for the following primary responsibilities:
Communicates Wheeling Heritage's brand and initiatives efficiently and accurately via many channels (website, printed materials, social media, etc.)
Establish goals for soliciting funds, and develop policies for collection and safeguarding of contributions.
Identify grants and, working with program managers, write and submit grant proposals.
Write interesting and effective articles and press releases, prepare information for media kits, and develop and maintain company web pages.
Design and edit promotional publications, such as brochures.
Manage communications budgets.
Coordinates communications efforts for special events.
Manages media relations, including building relationships with media contacts and proactively securing media opportunities.
Develops marketing and social media strategies, using social media data and analytics to make key decisions
Leads efforts to continue sharpening social media presence as a way to engage supporters, build momentum and share success stories.
Develop, implement, and maintain crisis communication plans.
Maintain the company's corporate image and identity, which includes the use of brand standards.
Applications will be reviewed on a rolling basis. Interested candidates should send their resume and cover letter to info@wheelingheritage.org.
Preserve WV AmeriCorps Program Opportunities
The Preserve WV AmeriCorps program is the Preservation Alliance of West Virginia's statewide national service initiative where members help main streets thrive, help communities capture their local history, and preserve beloved West Virginia landmarks. Wheeling Heritage is a proud partner of the PAWV and has sponsored several AmeriCorps members to support our mission to be a catalyst for the revitalization of Wheeling.
Previous AmeriCorps members have conducted surveys of our historic neighborhoods, created walking tours, preserved cemeteries, and contributed content to Weelunk – our online magazine. AmeriCorp members typically begin their service in September and work as full-time members of the team for 12 months.
Visit PAWV.org to learn more about AmeriCorps opportunities throughout West Virginia.
Being an AmeriCorps member at Wheeling Heritage provides an opportunity to truly experience and participate in the work of a national heritage area. As part of a wonderful team, you have a window into so many aspects from local heritage work and community engagement to nonprofit logistics and advocacy."

Emma Wiley, 2020 AmeriCorps Member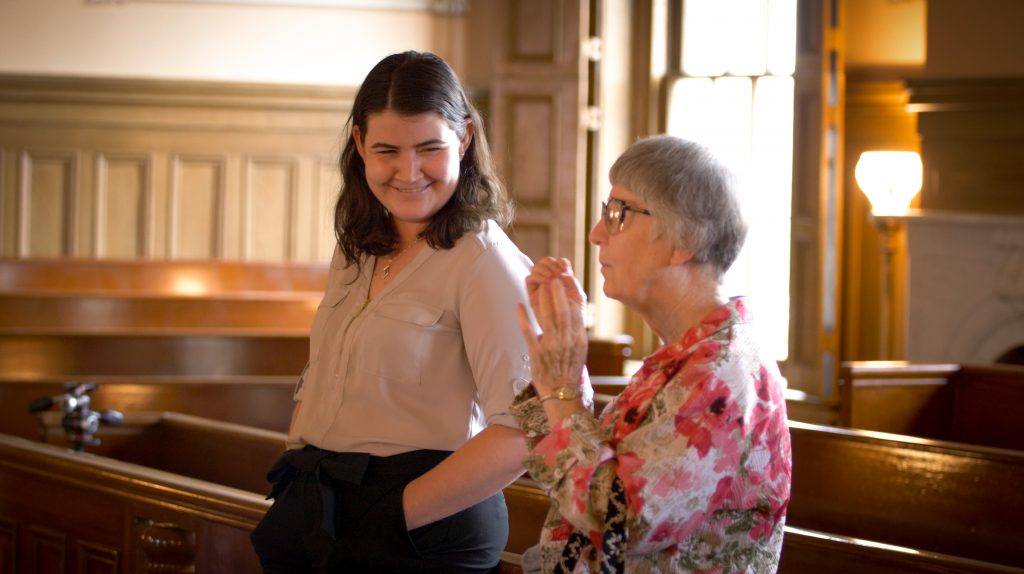 https://weelunk.com/weelunks-top-10-articles-written-emma-wiley/
Internships at Wheeling Heritage
Being an intern at Wheeling Heritage can be the first step in the development of your career. Internships offer you the chance to integrate classroom theory with real-world experience. Interns have made strong contributions to the success of Wheeling Heritage. We are proud to offer diverse learning opportunities to the students of the Wheeling area and beyond. We look forward to working with you! Contact Alex Panas for more information, or apply below.
During my internship with Wheeling Heritage, I worked on their podcast projects. Through this, I was able to write a series of recap articles for Weelunk and refine my research and writing. It was great to be able to apply these skills in a supportive environment with the help of the Wheeling Heritage team members, and I loved learning more about the history of my own hometown in the process." 

Katherine Leary, Wellesley College, 2020 History and Writing Intern
My time spent with Wheeling Heritage allowed me to be hands-on within the community and learn so much about arts programming from the ground up. I now work for the Ohio Citizens for the Arts where I am using the skills I learned at Wheeling Heritage to help with my organization's rebranding and storytelling."

Elizabeth Kirkpatrick, The Ohio State University, 2020 Arts and Culture Intern
Internship Application