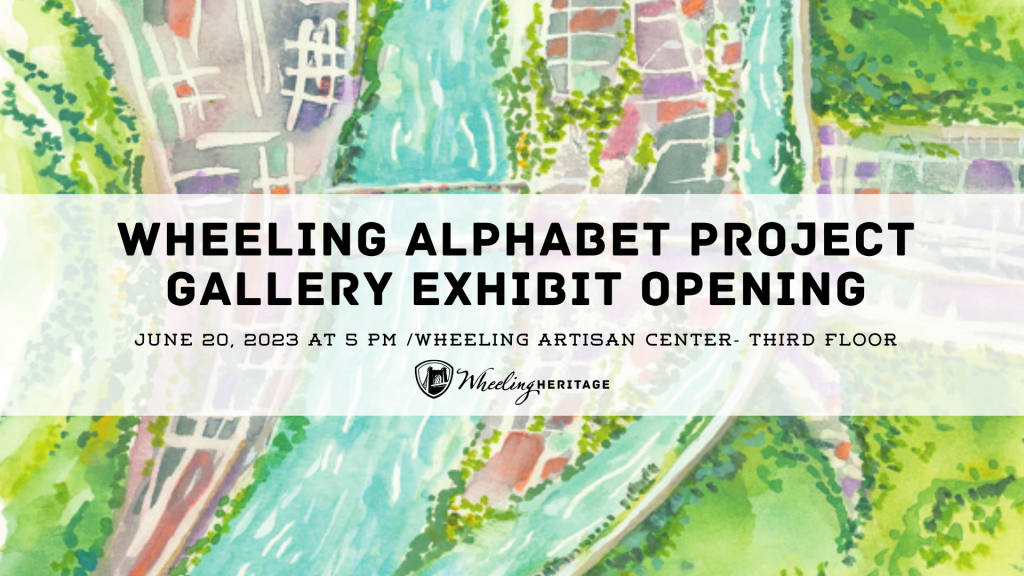 Date:
June 20, 2023

Time:
5:00 pm - 8:00 pm
Add to Google Calendar
Celebrate West Virginia Day by joining us for a special pop-up art exhibition featuring The Wheeling Alphabet Project. Earlier this year, 26 local artists came together to create artwork representing unique parts of Wheeling's history and culture. From "A" for the Linsly Aviator to "Z" for the Zane Family and everything in between, this exhibit has a little something for everyone to connect with.
Join Wheeling Heritage for the opening of this exhibit on Tuesday, June 20 from 5 - 8 p.m. on the third floor of the Wheeling Artisan Center. Light refreshments will be provided. Original artwork will be available for purchase from the artists, as well as the completed Wheeling Alphabet poster and merchandise.
Participating artists include:
Allison Byrne
Amanda Carney
Andrea Dubiel
Anne H. Foreman
Betsy Cox
Brian Fencl
Elizabeth Patterson
Giovanna Loccisano
Harriet Parsons
Janet Hart
Janet Sheehan
Jes Davis
Jessica Taylor
Jody Wharton
Katie Nan
Lillian Wood
Logan Schmitt
Lucas Dzmura
Luke Novel
Madison Tingler
Mat Robinson
Mel Jeffcoat
Mindi Yarbrough
Patricia Jeffers
Rachel Edinger
Sherrie Mestrovic
This event will be located on the third floor of the Wheeling Artisan Center, 1400 Main Street. It is free and open to the public.
Location:
Wheeling Artisan Center
1400 Main Street
Wheeling
Google Maps