Wheeling Alphabet Project
Wheeling Alphabet Project
Wheeling Heritage, in partnership with the Wheeling Arts and Cultural Commission, is embarking on a new collaborative art project that celebrates the people, places, and things that make our city special.
The Wheeling Alphabet project will be comprised of 26 letters of the alphabet, each representing something unique to Wheeling. From "A for Almost Heaven" to "Z for Betty Zane" and everything in between, this art project will be brimming with Wheeling pride.
Here's how you can get involved!
Community Input
We are seeking input from the community to help determine what each letter should represent.
Through Friday, March 10, we are collecting feedback from the community via an online survey. Afterward, project organizers will meet to determine the finalists and work with local artists who will produce their interpretation of each letter and theme.
The survey is now closed. Keep an eye out for the results!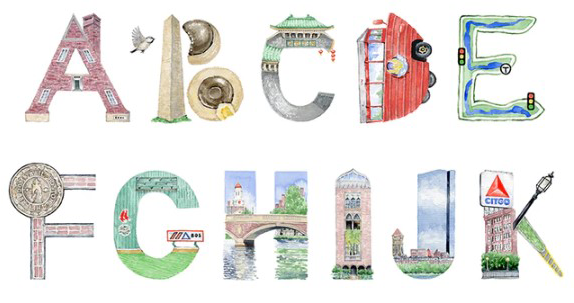 Call for Artists
Once the letter themes are finalized, we'll need the help of local artists to bring the Wheeling Alphabet to life! We are currently seeking 26 local artists who are willing to share their talents by contributing to this collaborative art project. The result of this art project will be a poster and other merchandise with the full Wheeling alphabet. Proceeds from any merchandise sales will go towards supporting community arts programming in Wheeling.
Scope of Work and Project Details:
Interested artists should apply online by Friday, March 31 (application below). Artists will be notified by Friday, April 7 of their acceptance into this project.
Artists selected for this project will have the opportunity to select which letter they wish to illustrate, although it is not guaranteed that you will receive your first choice.
Artwork must be completed by Friday, May 26. All artwork must be submitted with the following specifications:
       – Design at 6.75″ x 8″ or 10.25 x 12.5″
       – 300 DPI
       – Digital and traditional mediums are welcome. Traditional works should be appropriately scanned.
Artists who are selected for this project will be awarded a $100 stipened upon completion.
Artists agree to have their original artwork for this project on display at an exhibition held on Tuesday, June 20. At this event, artists can have their original artwork available for purchase at a list price of their choosing (no commission will be taken from the sale of your original artwork during this exhibit).
Still interested? Apply below!