Wheeling Heritage is continuing the tradition first started by the Wheeling Area Historical Society in 1968, through editing and publishing the Review — the only one of its kind in the northern panhandle of West Virginia that is dedicated solely to local history topics.
Interested in submitting an article for publication to the Upper Ohio Valley Historical Review? Please review our Author Submission Guidelines before submitting an article.
History of the Review
The Upper Ohio Valley Historical Review was first published in October 1968. Though its first issues were intermittent, it has become a treasured publication and valuable tool for studying and learning about our geographic area. In its 42 years of publication, there have been over 100 authors who wrote more than 150 articles.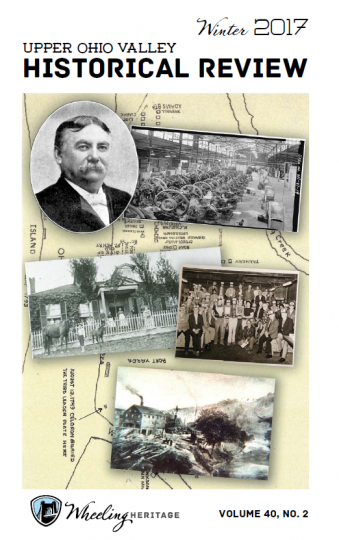 Subscribe 
Subscribe and get access to the latest Historical Review issues. To subscribe, email lunchwithbooks@yahoo.com or call the Ohio County Public Library at 304-232-0244.

Your subscription will fund the research, editing, and publication of this valuable local history resource.
View the latest Historical Reviews
Past Issues
For the first time, past issues of the Review are available online. The years ranging from 1968-1999 are now available for download below. They are arranged by subjects. Just click on the headings to see the articles that have been written in the past issues.
If you'd like to order a past issue, please contact us.
 

Opinions on Slavery in the Wheeling Area
The Daily Intelligencer 1859-1860
By Jon Reed Donnelly,
October 26, 1968, Vol. I No. I
The Goshorns of Wheeling, Rebel Sympathizers
By Dr. David F.Menard
July 1974, Vol. III No. I
Academic Freedom and Slavery: Two Ohio Colleges
By Erving E. Beauregard
2001, Vol. XXIV
Emancipated and Escaped Slaves and Freedmen of Mt. Pleasant, Ohio
By Angela Feenerty
Summer 2015 Vol. 38, No. 1

The Frescoes of West Virginia Independence Hall
By Wayne Barte and Beverly Fluty
Winter 1975, Vol. IV No. I
Sketch for a History of the Wheeling Symphony
By Kenneth R. Nodyne
Winter 1975, Vol. IV No. I
Wheeling's Great Primitive Artist-Patrick Sullivan
By James Morris
Autumn/Winter 1977, Vol. VII No. I
Wheeling Artists of the Past
By Janis H. Stein
Spring/Summer 1978, Vol. VII No. II
The Wheeling SAENGERFESTE of 1860 and 1885
By Dr. Edward C. Wolf
Autumn/Winter 1978, Vol. VIII No. I
A Survey of Children's and Adolescents' Historical Fiction about the Upper Ohio Valley
By Dr. Maryann Ehle
Autumn/Winter 1980, Vol. X No. I
The Wheeling Saengerfest of 1906
By Dr. Edward C. Wolf
Spring/Summer 1982, Vol. XI No. II
George Kossuth: Man of Spirit, Man of Vision, Man of Talent
By Irene Smith
Spring/Summer 1983, Vol. XII No. II
History of the Theatre's of Wheeling
By Earl Summers, Sr.
Autumn/Winter 1982, Vol. XII No. I
John Joseph Owens: Native Wheeling Artist, 1887-1931
By (Mrs. Frank) Margaret O'Malley Bierkortte
Spring/Summer 1984, Vol. XIII No. II
Henry J. Arbenz: Wheeling Music Master
By Dr. Edward C. Wolf
Autumn/Winter 1984, Vol. XIV No. I
Quiet Please! There's A Lady on Stage
By Gordon M. Eby
Autumn/Winter 1985, Vol. XIV No. I
William Dean Howells: The Ohio Valley Years
By Robert H. Sykes
Autumn/Winter 1986, Vol. XVI No. I
Wheeling's Victorian Theaters and Concert Life
By Dr. Edward C.Wolf
1988, Vol. XVII
A List of Wheeling's Theaters before 1900
By Dr. Edward C. Wolf
1988, Vol. XVII
Wheeling's German Singing Societies
By Dr. Edward C. Wolf
1988, Vol. XVII
Music on the River
By Dr. Edward C. Wolf
1990/1991, Vol. XIX
It's Wheeling Steel: The Original Family Broadcast
By Dr. John A. Cuthbert
1992/1993, Vol. XX
Eleanor Steber: An Autobiography
By Dr. Edward C. Wolf
1992/1993 Vol. XX
Music in Wheeling
By David Javersak
1998/1999, Vol. XXII
The Horkheimers and Balboa Films
By William A. Carney, Jr. and Brent E. Carney
2002, Vol. XXV No. II
Wheeling to Hollywood
By William A. Carney
2002, Vol. XXV No. II
Jenny Lind's Visit to Wheeling
Jeanne Finstein, Ed. D.
Winter 2015 Vol. 38, No. 2

The Goshorns of Wheeling, Rebel Sympathizers
By Dr. David F. Menard
July 1974, Vol. III No. I
In Honor of Father Lewis, First Editor of the UPPER OHIO VALLEY HISTORICAL REVIEW
By Robert Ramsey and Dr. Kenneth Robert Nodyne
Spring/Summer 1978, Vol. VII No. II
The Lewis Bonnett Home
By Irene Smith
August 1973, Vol. XI No. II
Absalom Martin: Soldier, Surveyor, Settler
By Annie C. Tanks
Spring/Summer 1983, Vol. XII No II
George Kossuth: Man of Spirit, Man of Vision, Man of Talent
By Irene Smith
Spring/Summer 1983, Vol. XII No. II
In Memory of Father Lewis
By Dr. Kenneth R. Nodyne
Autumn/Winter 1983, Vol. XIII No. I
Searching for your Upper Ohio Valley Ancestors in the West Virginia and Regional History Collection
By Ginger BeVard
Autumn/Winter 1983, Vol. XIII No. I
Henry J. Arbenz: Wheeling Music Master
By Dr. Edward C. Wolf
Autumn/Winter 1984, Vol. XIV No. I
Eleanor Steber: An Autobiography
By Dr. Edward C. Wolf
1992/1993 Vol. XX
The Marriage of Lee C. Paull and Mary Glessner
By Cassandra Sherman
1994/1995, Vol. XXI
Some Jacob Family Members: Their Lives in the Upper Ohio Valley
By Samuel W. McColloch
2003, Vol. XXVI No. I
In Memoriam: William A. Carney
2003, Vol. XXVI No. II
Historic Preservation – One Man's Mission
By Joan Weiskircher
2005, Vol. XXVIII
McColloch Brothers History Being Lost
By Samuel W. McColloch
2001, Vol. XXIV
Memorial Established for Dr. Kenneth Nodyne
By Editorial Board
2001, Vol. XXIV
Buffalo Bill: America's First Superstar
By Kate Quinn
Spring 2008, Vol. XXXI No. I
Rebecca Harding Davis
By Debra Conner
Spring 2008, Vol XXXI No. I
In Memoriam: Dr. Edward C. Wolf
Fall 2010, Vol. XXXIII No. I
H.C. Ogden and his Legacy
By Robert DeFrancis
Fall 2012, Vol. XXXV No. II

Emil and Nora Bey: Stories of a Wheeling Family
Robert K. Abel
Summer 2017 Vol. 40 No. 1

From Land Grant to Neighborhood: A Chronicle of Wheeling's North Park
James H. Frey
Winter 2017 Vol. 40, No. 2

Francis Lydell "Frank" Hoge, 1841-1901
Jeanne Finstein, Ed.D.
Spring 2013 Vol 36, No. 1

One of Wheeling's Forgotten Heroes: Major General Benjamin Franklin Kelley
Dr. Joseph A. Laker
Summer 2014 Vol. 37, No. 1

John Todd: An Ohio Valley Steamboat Builder, Captain and Designer
Dr. Jerry Green
Winter 2013 Vol. 36, No. 2

The Samuel Cockayne Family
Caitlyn Hucik
Winter 2014 Vol. 37, No. 2

Preservation Through Documentation: The Historic American Building Survey, Wheeling, West Virginia-1976
By Candace Reed
Autumn 1976, Vol. V No. I
The Laying of the Corner Stone of the West Virginia State Capitol, 1875
By Gary Baker
Spring 1977, Vol. VI No. II
The Merger of Ritchietown
By Kenneth D. Johnston
Autumn/Winter 1983, Vol. XIII No. I
The Opening and Closing of Hamilton's Opera House (1873-1902)
By Janet Mahy
1994/1995, Vol. XXI
Wheeling's Anthenaeum 1854-1868
By Edward L. Phillips
2002, Vol. XXV No. I
Changing Faces
By Robert Sykes
2002, Vol. XXV No. II
The Madonna of the Trail
By Marie C. Graybill address, speaking at the re-dedication of Wheeling's Madonna of the Trail monument
2003, Vol. XXVI No. II
The Preservation of A Jewel – Wheeling's B&O Railroad Passenger Station
By Joan Weiskircher
2005, Vol. XXVIII
Stratford Springs Hotel
By Kate Quinn
2006, Vol. XXIX No. I
The Howard Mansion
By Kate Quinn
Fall 2008, Vol. XXXI, No. II
Emil and Nora Bey: Stories of a Wheeling Family
Robert K. Abel
Summer 2017 Vol. 40 No. 1
From Land Grant to Neighborhood: A Chronicle of Wheeling's North Park
James H. Frey
Winter 2017 Vol. 40, No. 2

Moving the Soldiers and Sailors Monument in Wheeling
Dr. Joseph Laker
Summer 2016 Vol. 39, No. 1

West Liberty Cemetery: Reflections on the Values of Our Past
By David Albert Molnar
Spring/Summer 1981, Vol. X No. II
The Fourth: Ceremonies at the Dedication of the Soldiers' Cemetery
Published as printed in the Wheeling Daily Intelligencer July 6, 1865
Mt. Wood Cemetery
Rebekah Karelis
Winter 2014 Vol. 37, No. 2
Have you Heard of the Soldiers' Cemetery?
Rebekah Karelis
Summer 2015 Vol. 38, No. 1

General Isaac Harding Duval
By Nancy Lee Caldwell and Mrs. George W. Leonard
November 1972, Vol. II No. I
The Goshorns of Wheeling, Rebel Sympathizers
By Dr. David F.Menard
July 1974, Vol. III No. I
The Influence of the British Proletariat in the United States Civil War
By Dr. Walter F. Renn
July 1974, Vol. III No. I
The Duties of Home and War: The Civil War Letters of John G.Marsh, 29″' Ohio Volunteers (A Selection)
Edited by Dr. C. Calvin Smith
Spring/Summer 1979, Vol. VIII No. II
President Lincoln and Congressman Bingham
By Dr. Erving E. Beauregard
1990/1991, Vol. XIX
A Letter from the Gettysburg Area 30 June to 5 June 1863. Miss S.C. Shriver to her sister (Elizabeth) Mrs. Thos. J. Myer of Baltimore, Md. At the home of William Shriver Union Mills, Carroll County, Maryland 1863
Submitted by Paul Burig of Wheeling
1999/2000, Vol. XXIII
Wheeling's Anthenaeum, 1854-1868
By Edward L. Phillips
2002, Vol. XXV No I
The Way We Came. Extracts from the diary of a loyal Virginia woman during the war
By Emma Yarnall Ross
Reprint of excerpts of the Midland Monthly
Vol. 2, No. 2, August 1895 2004, Vol. XXVII
Antecedent and Occasions to the American Civil War
By John Bowman
Spring 2011, Vol. XXXIV No. I
Camp Carlile
By Diane Davis Darnley Hall
Spring 2011, Vol. XXXIV No. I
Charles Ellett, Jr.: Civil Engineer, War Strategist and Creator of the Civil War Ram Fleet
By John Bowman
Spring 2012, Vol. XXXV, No. I
Valley Spices (Trivia): The Civil War
By Brent Carney
Spring 2012, Vol. XXXV, No. I
The Sultana Disaster
By Kate Quinn
Spring 2012, Vol. XXXV No. I
Ellie Poole: a Shrewd and Dangerous Spy
By Jeanne Finstein
Spring 2012, Vol. XXXV, No. I
Washington Wept Here: The Saga of a Statue's Civil War Travels
Charles A. Julian, Ph.D.
Spring 2013 Vol. 36 No. 1
Washington's Second Farewell Address
As published in the Wheeling Daily Register, January 20, 1866
Spring 2013 Vol. 36, No. 1
Francis Lydell "Frank" Hoge, 1841-1901
Jeanne Finstein, Ed.D.
Spring 2013 Vol 36, No. 1
Wheeling Hospital in the Civil War
Margaret Brennan
Summer 2015 Vol. 38, No. 1
Mourning Lincoln: Wheeling, April 15 to June 1, 1865
Dr. Joseph Laker
Summer 2015 Vol. 38, No. 1
Moving the Soldiers and Sailors Monument in Wheeling
Dr. Joseph Laker
Summer 2016 Vol. 39, No. 1
One of Wheeling's Forgotten Heroes: Major General Benjamin Franklin Kelley
Dr. Joseph A. Laker
Summer 2014 Vol. 37, No. 1
A Great Doctor: John Frissell, M.D.
Margaret Brennan
Summer 2014 Vol. 37, No. 1

The Southern Fund at West Virginia Catholic Heritage Center
By Ryan Rutkowski
Spring 2011, Vol. XXIV No. I
Bethany College's Civil War Collections
By Sharon Monigold
Spring 2012, Vol. XXXV No. I
An Overview of the Office of Archives and Records Diocese of Wheeling-Charleston
By Jon-Erik Gilot
Fall 2012, Vol. XXXV No. II
Brooke County Historical Museum and Culture Center
Ruby Greathouse
Spring 2013 Vol. 36, No. 1
An Introduction to the Grave Creek Mound Archaeological Complex Research Library
Amanda Brooks
Winter 2013 Vol. 36, No. 2
The Heavener Site Collection: An 18th Century Frontier Cabin in Pocahontas County
Heather N. Cline
Winter 2013 Vol. 36, No. 2
The Dr. John Frissell Collection
Jon-Erik Gilot
Summer 2014 Vol. 37, No. 1
The Samuel Cockayne Family
Caitlyn Hucik
Winter 2014 Vol. 37, No. 2
Heritage and Identity: The Eighteenth Century Bible of the Cockayne Family
Elizabeth James
Winter 2015 Vol. 38, No.2

The Price of the Present Paid by the Past: The Discovery of a Printed Poem in Honor of the Soldiers and Sailors Monument by William Leighton
Rebekah Karelis
Summer 2015 Vol. 38, No. 1

The Bandit in the Fedora at the Ohio County Public Library Archives
Sean Patrick Duffy
Winter 2016 Vol. 39, No. 2

The People in the Papers: The Seaman Identification Card of Joseph Sofka
Elizabeth James
Summer 2016 Vol. 39, No. 1

The Weirton Steel Employees' Bulletin Collection
Dennis Jones
Summer 2017 Vol. 40, No. 1

Wheeling-LaBelle Nail Company Records
Laura Carroll
Winter 2017 Vol. 40, No. 2

Murder of the Crow Girls
By Mrs. Russell Hubbard
From an original manuscript in the possession of the R.M. Hubbard family of Wheeling, descendants of the Crow family
November, 1972, Vol. II No. I
The Trial of Alice Bradford: A Study in the Politics of Prostitution in Wheeling, W. Va.
By David W. Rose
Autumn/Winter 1986, Vol. XVI No. I
The Committee of One Hundred
By David W. Rose
Autumn/Winter 1985, Vol. XIV No. I
Prostitution and the Sporting Life, Aspects of Working Class Culture and Sexuality in Nineteenth Century Wheeling
By David W. Rose
Spring/Summer 1987, Vol. XVI No II
The Black Hand: Wheeling's First Concern Over Immigrant Organized Crime
Dr. William Gorby
Winter 2017 Vol. 39, No. 2
The Poisoning of John Schenk and Trial of Laura Farnsworth Schenk
Judi Hendrickson
Winter 2017 Vol. 39, No. 2
The Garrison-Baird Murder
Jeanne Finstein, Ph.D.
Winter 2017 Vol. 39, No. 2
The Blonde Triggerwoman: The Saga of Irene Shrader, Glen Dague, and Tom Crawford
William A. Carney, submitted by Brent Carney
Winter 2017 Vol. 39, No. 2

The Bandit in the Fedora at the Ohio County Public Library Archives
Sean Patrick Duffy
Winter 2016 Vol. 39, No. 2
A Great Educator of the Upper Ohio Valley-Paul N. Elbin
By Dr. Kenneth Robert Nodyne
Autumn/Winter 1978, Vol. VIII, No. I
Phillip Reed: Prominent Black Educator of Wheeling
By H. Lawrence Jones
Autumn/Winter 1983, Vol. XIII No. I
Wheeling High School "For the Benefit of the Youth of Wheeling
By H. Lawrence Jones
Autumn/Winter 1984 Vol. XIV, No. I
A Collegiate Outpost of Gradual Abolition
By Erving E. Beauregard
Spring/Summer 1985, Vol. XIV No. II
West Liberty State College 1837-1987
By Dr. David T. Javersak
Spring/Summer 1987, Vol. XVI, No. II
Cyrus and Jane McNeely: Teacher Training Advocate
By Dr. Erving E.Beauregard
1992/1993, Vol. XX
Thomas E. Cramblet and Wilbur H. Cramblet: Bulwarks of Bethany College
By Erving E. Beauregard
2002, Vol. XXV, No. I
Academic Freedom and Slavery: Two Ohio Colleges
By Erving E. Beauregard
2001, Vol. XXIV
Judson College
By Erving E. Beauregard
2003, Vol. XXVI No. I

John Cook Bennett and the Attempted Establishment of Wheeling University
Dr. Charles A. Julian, Ph.D.
Winter 2015 Vol. 38, No.2

Black's Cabin and the Site of Ohio County's First Court
By Donald R. Strong and Richard S. Klein
Autumn 1976, Vol. V, No. I
The Two Van Metres' Forts
By Richard Klein
Winter 1975, Vol. IV No. I
Van Metre's Fort: Further Notes on the History and A Progress Report on the Excavation
By Alan H. Cooper
Spring, 1976, Vol. IV No. II
Van Metre's Fort Excavation- Progress Report, NO. 2.
By Alan H. Cooper
Spring 1977, Vol. VI No. II
A Vignette of Wheeling During the Early Republic 1783-1840
By Dr. Kenneth Robert Nodyne
Autumn/Winter 1977, Vol. VII No. I
Frontier Warfare and Cultural Conflict
By Richard S. Klein and Alan Cooper
Autumn/Winter 1977, Vol. VII No. I
The Foreman Massacre, September 27, 1770
By Richard S. Klein
Spring/Summer 1978, Vol. VII No. II
The Captivity of Simon Kenton
By Dr. Rockne Ehle
Spring/Summer 1981, Vol. X No. II
Absalom Martin: Soldier, Surveyor, Settler
By Annie C. Tanks
Spring/Summer 1983, Vol. XII, No. II
A Document: Moses Shepherd Will
By Deanna and Tom Caniff
Spring/Summer 1984, Vol. XIII No. II
McColloch Brothers History Being Lost
By Samuel W. McColloch
2001, Vol. XXIV
Fort Randolph
John Bowman
Winter 2017 Vol. 40, No. 2

How About A Few More-"Old Fashioned Remedies"
By Nancy Caldwell
August 1973, Vol. XI No. II
A Clergyman-Physician in Nineteenth Century Appalachia
By Dr. Erving E. Beauregard
1989, Vol. XVIII
The Effects of the 1918 Influenza Epidemic on Wheeling
By Kate Quinn, 2006
Vol. XXIX No. I
Dr. John Hupp, M.D.
By Archibald Todd Hupp, IV
2006, Vol. XXIX No. II
Dr. James Edmund Reeves
By Kate Quinn
2006, Vol. XXIX No. II
A Heinous Offense
By Kate Quinn
Spring 2007, Vol. XXX, No. I

Wheeling Hospital in the Civil War
Margaret Brennan
Summer 2015 Vol. 38, No. 1

A Great Doctor: John Frissell, M.D.
Margaret Brennan
Summer 2014 Vol. 37, No. 1

The Dr. John Frissell Collection
Jon-Erik Gilot
Summer 2014 Vol. 37, No. 1

Shades of Glory or Bark of the Buttonwood -The Wheeling Stock Exchange
By John Hazlett
Autumn 1976, Vol. V No I
The End of Urbanization: A Critical Essay
By Dr. Richard T. Geruson
Autumn/Winter 1980, Vol. X No. I
The Economy of Early Wheeling As Seen Through European Eyes
By Doug Fetherling
Spring/Summer 1981, Vol. X No. II
The Wine Industry in Martins Ferry, OH
By Annie C. Tanks and Dr. William M. Seaman
Spring/Summer 1980, Vol. IX No. II
The McLure House and E.M. Statler
By Doug Fetherling
Autumn / Winter 1982, Vol. XII No. I
"Coketown"- A Reconstructed History
By Douglas S. Waugh
Autumn/Winter 1986, Vol. XVI No. I
Printing and Culture in Early Wheeling
By Doug Fetherling
Autumn/Winter 1981, Vol. XI No. I
Mozart Park and the Incline
By Montana X. Menard
Autumn/Winter 1981, Vol. XI No. I
Sterling Drug Company
By Judge Frederick Stamp
Vol. XXII Fall 2010, No. I
Origins of the 1885 Strike in the Wheeling Iron and Steel Mills
By Amos J. Loveday, Jr.
Autumn/Winter 1983, Vol. XIII No. I
Flaccus: Grocers to A Nation
By Deanna and Tom Caniff
Spring/Summer 1984, Vol. XIII No. II
Origins of the La Belle Nail Works
By Amos J. Loveday, Jr.
Spring/Summer 1985, Vol. XIV No. II
"It's Wheeling Steel: The Original Family Broadcast"
By Dr. John A. Cuthbert
1992/1993, Vol. XX
Hobbs, Brockunier and Company
By Catherine Blair Romanosky
1994/1995, Vol. XXI
Wheeling: The Nail City
By David Javersak
1998/1999, Vol. XXII
A Journey through Coal Dust
By David Rose
2001, Vol. XXIV
Hazel-Atlas: A Home-Grown Corporation
By Joan Weiskircher
2002, Vol. XXV No. I
George W. Smith and the East Wheeling Brewery
By Albert Doughty, OH
2003, Vol. XXVI No. I
The Reymann Brewing Company
By Albert Doughty
2003, Vol. XXVI No. II
Henry Schmulbach and the Schmulbach Brewery
By Albert Doughty
2004, Vol. XXVII
Early Life in the Glass Industry
By Jake Crimmel
By Paul E. Rieger
2005, Vol. XXVIII
The Hancher Clock
By Kate Quinn
Fall 2008, Vol. XXXI, No. II
Wheeling's Watering Hole: Ye Olde Alpha
By Rebekah Karelis
Spring 2009, Vol. XXXII, No. I
The Story of the Kepner Funeral Homes
By Rebekah Karelis
Spring 2009, Vol. XXXII No. I
Cooey-Bentz Company
By Judi Hendrickson
Fall 2009, Vol. XXXII, No. II
Wheeling Decorating Company
By Megan Clark
Fall 2011, Vol. XXXIV No. II
Wheeling Stamping Company
By Kate Quinn
Fall 2011, Vol. XXXIV No. II

Wheeling-LaBelle Nail Company Records
Laura Carroll
Winter 2017 Vol. 40, No. 2

Wheeling Saddle Club
By Kate Quinn
Fall 2009, Vol. 32, No. II
Whelan's Irish Guard: The Ancient Order of Hibernians
Sean Patrick Duffy
Winter 2013 Vol. 36, No. 2
John Cook Bennett and the Attempted Establishment of Wheeling University
Dr. Charles A. Julian, Ph.D.
Winter 2015 Vol. 38, No.2
Crittenton Services
Judi Hendrickson
Winter 2017 Vol. 40, No. 2

McCarthy's Wheeling Speech; Catalyst to Mayhem
By Michael J. Strada
Spring/Summer 1986, Vol. XV, No. II
Carl G. Bachmann: West Virginia Congressional Leader
By Michael K. Wilson
Fall 2007, Vol. XXX, No. II

Mourning Lincoln: Wheeling, April 15 to June 1, 1865
Dr. Joseph Laker
Summer 2015 Vol. 38, No. 1
Today's News is Tomorrow's History, Newspapers in Ohio County
By Joseph E. Hoffman
Autumn/Winter 1977, Vol. VII No. I
H.C. Ogden and his Legacy
By Robert DeFrancis
Fall 2012, Vol. XXXV No. II
The Wheeling Daily Intelligencer and the National Digital Newspaper Program
By Cindy Karelis
Fall 2012, Vol. XXXV No. II

Bishop Van De Velde's Journey Down the Ohio, 1831
By Rev. Clifford M. Lewis, S.J.
October 26, 1968, Vol. 1 No. I
Jesuits in Virginia, 1570-1850
By Rev. Clifford M. Lewis, S.J.
Spring 1977, Vol. VI No. II
The Roman Catholic Church in Wheeling Early History to 1850
By Msgr. Robert F. Weiskircher S.T.L.
Prepared with the assistance of Sr. Margaret Brennan S.J.
Spring/Summer 1982, Vol. XI, No. II
The Way We Were: 125 Years of St. Alphonsus Parish, Wheeling
By Rev. Stephan Miltenberger, OFM
Spring/Summer 1983, Vol. XII, No. II
A Clergyman-Physician in Nineteenth Century Appalachia
By Dr. Erving E. Beauregard
1989, Vol. XVIII
Wheeling's Early Jewish Leaders and the Eoff Street Temple
By Daniel M. Lowy Rabbi
2003 Vol. XXVI, No. II
Receiving the Spiritual Bread: A History of the Presbyterian Church in Wheeling
Jeanne Finstein, Ed.D.
Winter 2014 Vol. 37, No. 2
The "Bible Question Bee" and Example
Professor Robert W. Schramm
Winter 2014 Vol. 37, No. 2

Career of Josiah Fox as Ship-Builder for the U.S. Navy: His Own Story
Analyzed by Rev. Clifford M. Lewis
Autumn/Winter 1980, Vol. X No. I
Captain John McLure, Jr. River History
By John Bowman
Fall 2009, Vol. XXXII No. II
The Vindication of Captain Keller
By Dennis E. Lawther
Spring 1977, Vol. VI No. II
The Tragedy of Captain Josephus Todd
By Jerry Green
2003, Vol. XXVI No. I
Steubenville Riverboat Captains
By Jerry Green
2006, Vol. XXIX No. I
Wellsville, Ohio, in the Nineteenth-Century Riverboat Era
By Jerry. E. Green
Fall 2008, Vol. XXXI, No. II
The Maiden Voyage of the Steamboat New Orleans
By John Bowman
Fall 2011, Vol. XXXIV No. II
Charles Ellett, Jr. Civil Engineer, War Strategist and Creator of the Civil War Ram Fleet
By John Bowman
Spring 2012, Vol. XXXV, No. I
John Todd: An Ohio Valley Steamboat Builder, Captain and Designer
Dr. Jerry Green
Winter 2013 Vol. 36, No. 2
The Steamboat Washington: the First Successful River Steamboat
John Bowman
Summer 2016 Vol. 39, No. 1

Valley Spices: The Arts
By William A. Carney, Jr. and Brent Carney
Fall 2010, Vol. XXXIII No. I
Valley Spices: The Civil War
By Brent Carney
Spring 2012, Vol. XXXV, No. I

The Battle of Production: The Weirton Steel Company During WWII
Paul Zuros
Summer 2017 Vol. 40, No. 1
Mill of the Future: Corporation and Community in Postwar Weirton
Dr. Allen Dieterich-Ward
Summer 2017 Vol. 40, No. 1

The Weirton Steel Employees' Bulletin Collection
Dennis Jones
Summer 2017 Vol. 40, No. 1

"Wheeling Days Are Happy Days"
By Jessie M. Price
July 1974, Vol. III No. I
Once in a Lifetime Wheeling Celebrates the United States Centennial: 1876
By Dennis E. Lawther
Spring 1976, Vol. IV No. II
Christmas in the Upper Ohio Valley
By Beverly Fluty
Autumn 1976, Vol. V, No. I
Reminiscences of His Schoolboy Days: An Octogenarian Tells of Places, Conditions, and Events in Early Wheeling 1905
By Joseph Bell, 1819-1908
Ed. By Dennis E. Lawther
Spring/Summer 1980, Vol. IX No. II
The Study of Local History
By Dr. William F. Trimble, Editor
Autumn/Winter 1980, Vol. X No. I
A Compilation of Articles about Wheeling History in the Upper Ohio Valley Historical Review, 1968-1981
Compiled by Dr. Kenneth Robert Nodyne
Spring/Summer 1981, Vol. X No II
Wheeling In 1806: A Summary of A Portion of The Book TRAVELS IN AMERICA
By Thomas Ashe, Esq.
Published In London In 1808, Pertaining to the Wheeling Area
Prepared by Frasier Smith
Autumn/Winter 1982, Vol. XII No. I
The Cleveland Banner Incident: Wheeling as The Focal Point of A National Controversy In 1887
By Beverly Fluty and Kenneth R. Nodyne
Spring/Summer 1985, Vol. XIV No. II
Travel Accounts of Early Wheeling
By David Javersak
1998/1999, Vol. XXII
Wheeling Rejects Carnegie Free Library
By David Javersak
1998/1999, Vol. XXII
Wheeling Area Historical Society: Complete Listing of the first 33 issues of the Upper Ohio Valley Historical Review
Compiled by John Bowman
1999/2000, Vol. XXIII
Wheeling and the Panama Canal
By Dr. Edward C. Wolf
2004, Vol. XXVII

Henrietta Fulks and the Suffragette Movement In Wheeling
By Mary Leibold
Autumn 1976, Vol. V No. I
Mother's Day and the Mother's Day Shrine: A History
By Rick Henderson
Spring/Summer 1984, Vol. XIII No. II
Home Work And Nineteenth-Century
By Dr. Barbara J. Howe
1989, Vol. XVIII
Remembering the Ladies: A Look at the Woman's Suffrage Movement in Wheeling
By Kate Quinn
Spring 2007, Vol. XXX No. I