A popular book sale has raised more than $5,000 for the restoration of Mt. Wood Cemetery. Wheeling Heritage's Old and Used Book Sale, which took place Nov. 6 to 11, invited book lovers to browse more than 15,000 books, most of which were priced at $1.
This year's profits are the highest the annual fundraiser has ever seen, said Bekah Karelis, Wheeling Heritage project manager. She attributes the higher sales to the growing popularity of the sale, noting that 750 people attended this year.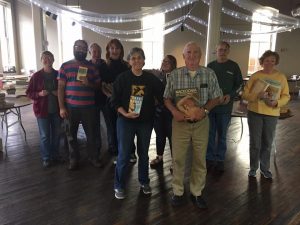 "We couldn't have raised this money without the book donations from members of our community. The book donors, along with the volunteers who helped sort the books and worked at the sale, made this possible," Karelis said.
Wheeling Heritage, which serves as the project manager for the Mt. Wood Cemetery Restoration Project, will use the funds to reset some of the cemetery's large monuments, as well as to repair several retaining walls.
Established in 1848, the Mt. Wood Cemetery was designed during the rural romantic movement, which paid homage to its location's significant and unique topography.  Located above what was known as Jonathan's Ravine, just off of National Road, and overlooking both the Wheeling Creek Valley and the Ohio River Valley, the cemetery was a popular place of internment during the mid- to late 1800s.
Click here to learn more about the preservation of Mt. Wood Cemetery, and view our Mt. Wood Story Map to learn more about cemetery's history.